Recent KB Articles
Current page
"Ferro Backup System is endpoint backup solution based on client/server architecture, intended to make backup copies of data stored on computers connected to network"

tags: backup recovery restore solution software tool endpoint protection data disk tape NAS virtual host VM machine LAN network computers desktop servers laptops PST outlook database system state snapshot
60-Day Money-Back Guarantee
Unconditional refunds accepted for up to 60 days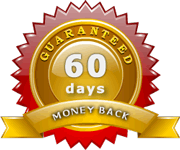 You can thoroughly test the software before buying by using the free version, which can backup up to two computers and has no other restrictions. You can also request a free, time-limited license key and test the software even more thoroughly on all computers in your organization.

Sometimes, however, you urgently need acquire a backup solution and there is not enough time to learn about all functionalities of the software. Even in situations like those, when you purchase our product you do not need to be afraid that the solution we provide will be ill-suited to your needs or useless.

Regardless of whether you tested the software before purchasing or not we offer a guaranteed refund of the full license price within 60 days of ordering.

Thousands of people have been using the Ferro Backup System for years. We would like to count you as our satisfied customers too!

Do not hesitate. Invest in a backup system and you will not lose! Buy now.

They have already trusted us: Who is Using Ferro Backup System?.