Recent KB Articles
Current page
"Ferro Backup System is endpoint backup solution based on client/server architecture, intended to make backup copies of data stored on computers connected to network"

tags: backup recovery restore solution software tool endpoint protection data disk tape NAS virtual host VM machine LAN network computers desktop servers laptops PST outlook database system state snapshot
Ferro Backup System software console - screenshots
The main tab displays a list of computers scheduled for backup. Each computer shows status, time of the last and next backup. Here you can start and stop backup tasks.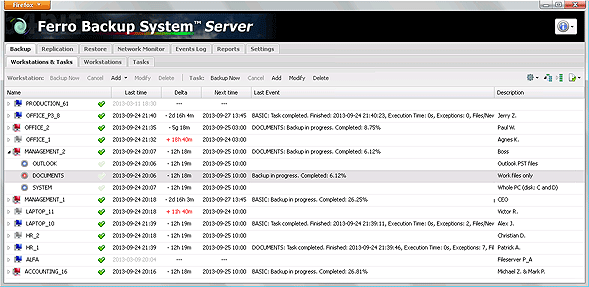 Replication enhances the security of backup files stored on the backup server by replicating them to another location. Files can be replicated to another disk drive (removable hard drive, disk array, network drive, NAS, FTP server), optical media (CD/DVD/Blu-Ray/HD-DVD) or tape media (QIC, 4mm DAT/DDS, 8mm, DLT, etc.).






Use the Restore tab to view backups and restore data from them. Ferro Backup System supports full backups and differential backups. Nevertheless, whatever backup type you choose selected for your workstation, the restore procedure is always carried out in the same, user-friendly way.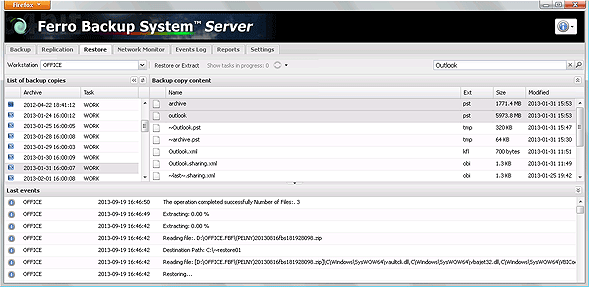 The Network Monitor is used to monitor the TCP server. It includes two information fields. One displays TCP server statistics and the other a list of active workstations (connected to the backup server).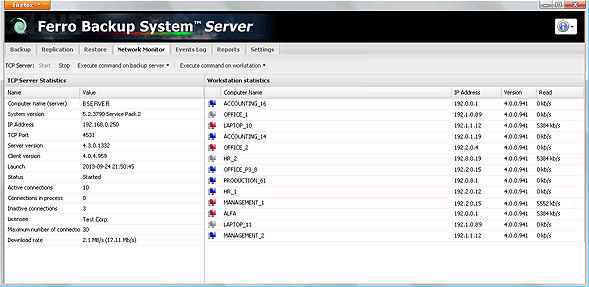 The Event log is used to ensure that the System is working properly and to detect causes of possible issues. In the Event log tab you can view in real time all events concerning the System's operation (for both server and workstations), such as errors, warnings and notifications. All registered events can be filtered by event type and affected computer names.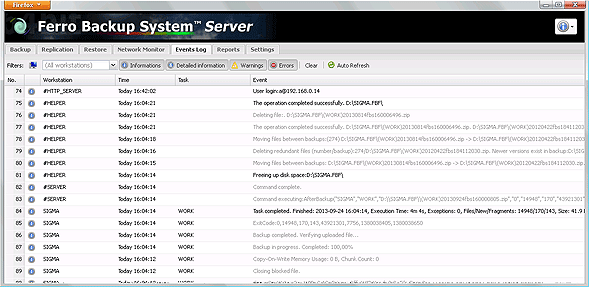 Reports facilitate analysis of the System's operations. With reports it is no longer necessary to constantly monitor the System and analyze the Event Log. Reports are generated in HTML format and then uploaded to the Internet Explorer window in FBS Server. Using Administrative alerts, reports can be automatically generated and sent to a designated email address or FTP/web server.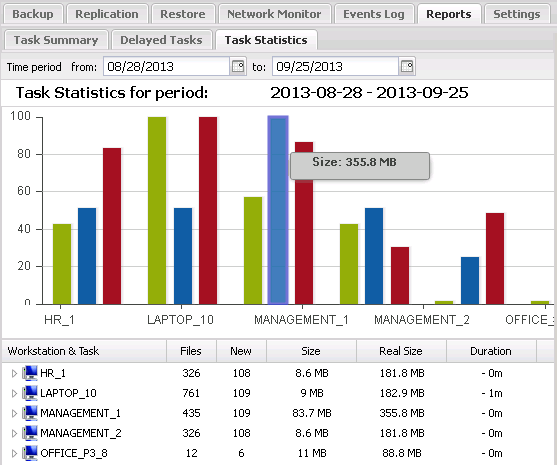 The Settings tab enables you to configure the basic settings for backup server, define archive encryption passwords, set administrative alerts, map network resources and create scripts to extend the program's functionality.