FBS Recovery Disk Creator
A free recovery disk creator utility
Use
Use this utility to create an FBS Recovery boot disk, which allows you to boot a damaged machine and recover the operating system from a backup. The FBS Recovery boot disk is created on removable media, such as a USB flash drive, CD or DVD and includes Windows boot files and the FBS Worker utility. After booting a machine from such media, the Windows MinWin operating system is loaded and then the FBS Worker utility launches, establishing a connection with the backup server. You can start the operating system recovery from the FBS Server console.


Requirements
To create an FBS Recovery boot disk you need:
PC with Windows 7, Windows Server 2008 (32 or 64 bit) or newer
Reliable Internet connection (to download is about 4 GB)
At least 10 GB free disk space
CD, DVD or USB flash drive with at least 256 MB of space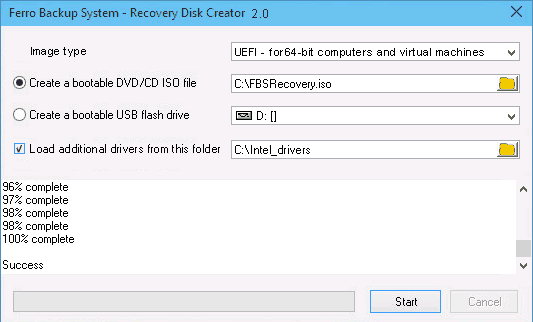 Fig. 1 FBS Recovery Disk Creator
Usage
After launching the FBS Recovery Disk Creator utility choose to create an ISO file to be burnt on a CD/DVD or to prepare a USB boot disk. After clicking on "Start" the program will check for and if needed download additional software components. Ferro Backup System - Worker and Windows Preinstallation Environment are required. Download size is approximately 4 GB. After the components have been downloaded and installed, the ISO file or the USB boot disk will be created accordingly, as requested.


Download
Download the free FBS Recovery Disk Creator utility (no installation required): Download page