Recent KB Articles
Current page
"Disk image recovery over LAN available in the new version of Ferro Backup System - network backup & restore software solution for SMBs"

tags: disk image recovery restore LAN network backup software solution partition download
Ferro Backup System 4.7 - disk image recovery via LAN
26 March 2015 - Ferro Software launched a new version of the data backup software, the Ferro Backup System 4.7, which enables to recover the disk image through the local network to the crashed computer.

The new version has many improvements. One of the more important new features is the boot disk creator, which, in case of a computer failure, enables to restart it from a CD or a pendrive. The computer operating in this mode will automatically connect to the backup server, and the administrator will be able to remotely restore the entire operating system. Previously, such an operation required connecting the disk from the crashed computer to the backup server, which might cause difficulties in the case of laptop disks or server disks operating in a RAID configuration. Now, the entire procedure can be carried out easily and quickly through the LAN without opening the computer case.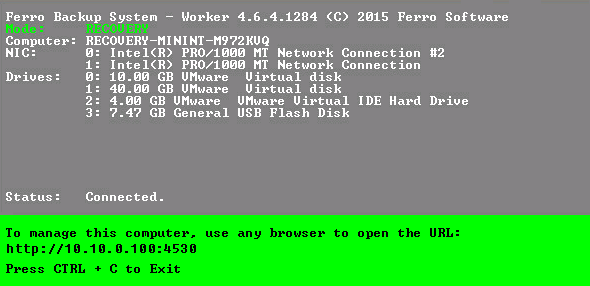 Version 4.7 also introduces changes in the delta backup mechanism. Such a backup copy significantly speeds up backup of large files (only the changed portions are copied) and makes backups much smaller than the typical incremental backups. In the previous versions, the first two copies were carried out automatically in a full mode, and only then could the differences at the file fragment level be calculated. In the current version, only the first copy has to be a full copy, and all the other ones just differ from one another. Also, the new version fixes several bugs that caused the necessity to carry out a full copy once again, which could lead to an increased network load.

Other changes and improvements include new remote command-line mode, the possibility of using SQL queries when viewing logs and generating administrative alerts, and fixed deleting of snapshots from VMWare ESXi host after the backup is complete.

For a complete list of changes please go to Change Log page.

Ferro Backup System is available in license packs for 5, 10, 30, 50 and 100 computers. The smallest pack costs $140, and the largest $1.200. Please go to Orders page to purchase the new version of the software.