Recent KB Articles
Current page
"Ferro Backup System is endpoint backup solution based on client/server architecture, intended to make backup copies of data stored on computers connected to network"

tags: tape library autoloader device backup archive disk-to-disk-to-tape disk-to-tape ntbackup rsm windows server 2008 2012 R2
Article reference: FS-FBS-20111116-I01
Last revision : 16 January 2015
Version : 1.1



Data backup on tape drives (streamers), tape libraries and autoloaders
The article discusses how to launch a Ferro Backup System built-in replication function for tape drives (streamers) and tape libraries (autoloaders). This solution works in all versions of Windows system, including Windows Server 2008 R2 and Windows Server 2012.
There is no NTBackup or Removable Storage Manager (RSM) function in later versions of Windows.
From the very beginning, Windows NT system has had built-in support for tape drives. However, with the release of Windows Vista and Windows Server 2008, Microsoft decided to discontinue providing Removable Storage Manager (RSM) function Removable Storage Manager (RSM) and NTBackup program NTBackup, that is the components that were needed to backup data on tape drives. The last versions of Windows, in which the program was available, were Windows XP and Windows Server 2003. In order to continue to perform backups on tape drives using the latest versions of Windows, it is necessary to use external data storage solutions, such as Ferro Backup System.



| | | |
| --- | --- | --- |
| Operating System Version | Native support for tape drives by the operating system | Handling tape drives in Ferro Backup System |
| Windows 2000 | | |
| Windows XP | | |
| Windows Server 2003 | | |
| Windows Vista | | |
| Windows Server 2008 | | |
| Windows 7 | | |
| Windows Server 2008 R2 | | |
| Windows 8 | | |
| Windows Server 2012 | | |
| Windows 10 | | |
Tab. 1. Handling tape devices subsequent versions of Windows
A working solution for the latest versions of Windows
Ferro Backup System is a tool to disk-to-disk backup. It allows for data archiving from computers connected to the LAN or WAN networks and for saving archives on backup server disks. Later, these archives can be automatically replicated by the program to optical drives or tape drives. FBS supports all types of tape devices, such as DDS, LTO, DLT, in all versions of Windows, from Windows 2000 through XP, 2003 and Vista, 2008, Windows 8 and Windows Server 2012.



Installing a tape drive or a tape library (autoloader)
The only condition that must be met, so that Ferro Backup System can access the tape drive, is the installation of correct drivers for the device. The drivers must come from Microsoft or the manufacturer of the device.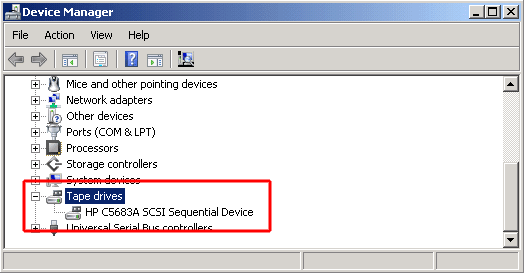 Fig. 1 Installing the tape drive in Windows Server 2008 R2 64-bit


If in the system there are other manufacturer's drivers installed for the tape drive (e.g. a manufacturer of data backup software), they should be replaced with a driver of the device manufacturer. After the correct installation of the drivers, the Device Manager will display a branch "Tape Devices" with the name of the installed tape drive or tape library.



Selecting the tape device and formatting the drive
After running the FBS Server console, go to the Replication | Tape Devices tab. In the Device box, select the name of the device, which is usually marked as Tape0 or Tape1.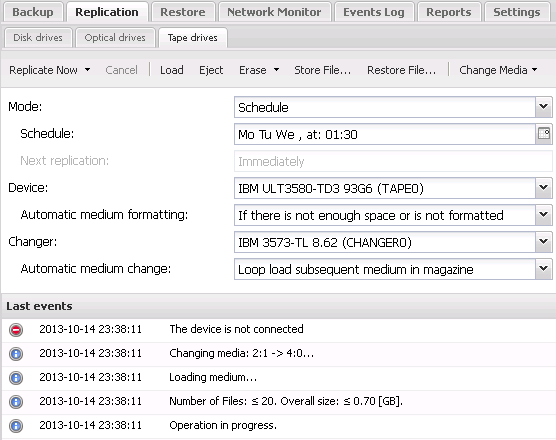 Fig. 2 FBS Server - Replication on a tape drive with tape libraries and autoloaders support.


Please keep in mind that before the first replication you have to format the drives using the command "Fast formatting" or "Format", which are available in the "Erase" menu.



References